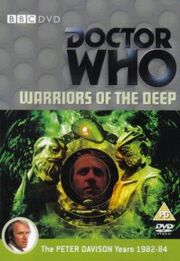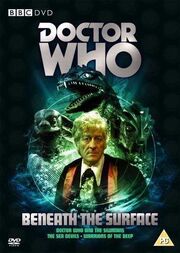 Commentary
Edit
Commentary by Peter Davison (The Doctor), Janet Fielding (Tegan), Eric Saward (Script Editor), Mat Irvine (Visual Effects Designer).
The Depths
Edit
Production and cast members recall with some amusement their experiences of working on the story, in the face of a foreshortened shooting schedule, camera-hogging guest stars and a giant green amphibious pantomime horse... Steve Broster's affectionate documentary features contributions from director Pennant Roberts, writer Johnny Byrne, actors Peter Davison, Janet Fielding, Ian McCulloch, James Coombes and John Asquith, visual effects designer Mat Irvine, continuity advisor Ian Levine and documentary producer Ed Stradling. Narrated by David Harley. Produced by Ed Stradling. (31'42" | TBC | 2007)
They Came from Beneath the Sea
Edit
A featurette focussing on the realisation of the story's non-human cast - the Silurians, the Sea Devils and the dreaded Myrka. Featuring Pennant Roberts, Peter Davison, Johnny Byrne, Mat Irvine, with actors William Perrie and John Asquith (Myrka front and rear respectively). Producer: Steve Broster. (12'53" | 16:9 | 2007)
Science in Action
Edit
BBC Schools presenter Kjartan Poskitt talks to visual effects designer Mat Irvine about some of the techniques and plastic materials he uses in his job in this programme extract from 1987. (5'58" | 4:3 | 1987)
Trails and Continuities
Edit
BBC1 trails and continuity announcements from the story's original transmission. (3'57" | 4:3 | 1984)
Isolated Music
Edit
Isolated synchronous music from the story, composed by Jonathan Gibbs, is available on a separate audio track.
PDF Material
Edit
Episode listings for this story from the BBC magazine Radio Times in PDF format.
Photo Gallery
Edit
A selection of rare and previously unpublished photographs from the recording of this story. (7'42" | TBC | TBC)
Production Subtitles
Edit
Text commentary by Martin Wiggins providing cast details, script development and other information related to the production of this story.
Coming Soon
Edit
A preview of The Time Meddler. The trailer for this story is available on Destiny of the Daleks. (1'03" | TBC | 2007)
Easter Egg
Edit
Mat's Models: Relics from the Irvine workshop. Go to the 'Special Features' menu. Click on the hidden Doctor Who logo to the left of the 'Science in Action.' (TBC | TBC | TBC)