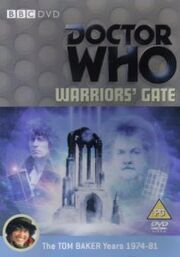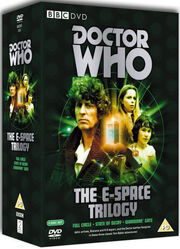 Commentary
Edit
Commentary by Lalla Ward (Romana), John Leeson (K-9), Paul Joyce (director), Christopher H. Bidmead (script editor), Mat Irvine (visual effects designer).
The Dreaming
Edit
Cast and crew look back at the troubled making of this story. With actors Lalla Ward, John Leeson, Clifford Rose and David Weston, director Paul Joyce, writer Stephen Gallagher, script editor Christopher H. Bidmead and visual effects designer Mat Irvine. Narrated by Stephen Greif. Produced by Andrew Beech. Duration: 27'10"
The Boy with the Golden Star
Edit
Actor Matthew Waterhouse looks back on his time on the show. Produced by Richard Molesworth. Duration: 19'40"
Lalla's Wardrobe
Edit
A trip through Romana's time on the show via the medium of the many costumes actress Lalla Ward wore along the way. With Lalla Ward, costume designers June Hudson and Louise Page, writers Nev Fountain and Jonathan Morris. Produced by James Goss. Duration: 16'59"
Extended and Deleted Scenes
Edit
Missing scenes from an earlier edit of episode two. Duration: 4'11.
Continuity
Edit
BBC1 continuity announcements from the original transmission. Duration: 2'00"
Isolated Score
Edit
The option to watch the story with Peter Howell's music score on an isolated track.
Radio Times Billings
Edit
Listings for this story from the BBC magazine Radio Times in PDF format.
Production Subtitles
Edit
Text commentary by Martin Wiggins providing cast details, script development and other information related to the production of this story.
Photo Gallery
Edit
A selection of rare and previously unpublished photographs from the recording of this story.
Coming Soon
Edit
A preview of The Rescue / The Romans box set. The trailer for this story is available on Battlefield.
Easter Egg
Edit
Mat Irvine's Prop Talk. Go to the 'Special Features' menu. Click on the hidden Doctor Who logo to the left of the 'Photo Gallery.'