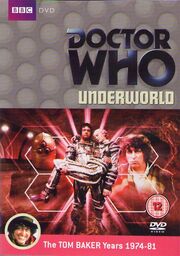 Commentary
Edit
Commentary by Tom Baker (The Doctor), Louise Jameson (Leela) and Bob Baker (Writer).
Into The Unknown
Edit
A look at the complex production of this story, with particular emphasis on the difficulties in achieving the bluescreen virtual studio sets. With script editor Anthony Read, writers Bob Baker and Dave Martin, actors Jonathan Newth (Orfe) and Norman Tipton (Idas), designer Dick Coles and video effects designer A.J. 'Mitch' Mitchell, with rare convention footage of producer Graham Williams. Narrated by Richard Heffer. (30'44" | Widescreen | 2010)
In Studio
Edit
Using timecoded Shibaden and U-matic video recordings, we are given a rare glimpse inside the studio during the recording of this story, much of which involved the use of bluescreen virtual studio techniques. (17'31" | 4:3 | 1978)
Radio Times Billings
Edit
Episode listings for this story from the BBC magazine Radio Times in PDF format.
Production Subtitles
Edit
Text commentary by (TBC) providing cast details, script development and other information related to the production of this story.
Photo Gallery
Edit
A selection of rare and previously unpublished photographs from the recording of this story. (5'56" | 4:3 | 2010)
Coming Soon
Edit
A preview of The Creature from the Pit. The trailer for this story is available on The Space Museum / The Chase. (0'42" | 4:3 | 2010)