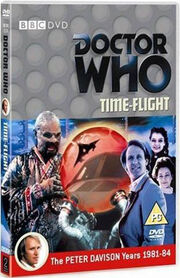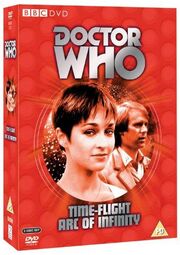 Commentary
Edit
Commentary by Peter Davison (the Doctor), Janet Fielding (Tegan), Sarah Sutton (Nyssa), Eric Saward (script editor).
Mouth on Legs
Edit
Janet Fielding talks about her time on the show. Produced by Richard Molesworth. Duration: 13'36"
Deleted and Extended Scenes
Edit
A selection of unused scenes taken from both broadcast quality and timecoded viewing copies of the studio recordings and early edits. Duration: 3'46"
Jurassic Larks
Edit
Behind-the-scenes action from the studio recording sessions. Produced by Richard Bignell. Duration: 19'33"
Out-takes
Edit
A collection of humorous fluffs and technical gaffs from the story's production. Duration: 13'52"
Peter Grimwade
Edit
From Keith Barnfather's extensive collection of interviews produced for his Mythmakers video releases comes this Peter Grimwade interview from 1987, in which the late writer / director talks to Nick Briggs about his writing work on this story. Duration: 4'11.
Radio Times Billings
Edit
Episode listings for this story from the BBC magazine Radio Times in PDF format.
Production Subtitles
Edit
Text commentary by Martin Wiggins providing cast details, script development and other information related to the production of this story.
Photo Gallery
Edit
A selection of rare and previously unpublished photographs from the recording of this story.
The Doctor Who Annual 1983
Edit
In the 1960s, 1970s and early 1980s the Doctor Who Annual was published every year in time for the Christmas market, and made an excellent stocking-filler! Now many of the annuals are collectors items. The Doctor Who Annual from 1983 is presented on this DVD in its entirety.
Coming Soon
Edit
A preview of The Time Warrior. The trailer for this box set is available on Timelash.
Community content is available under
CC-BY-SA
unless otherwise noted.