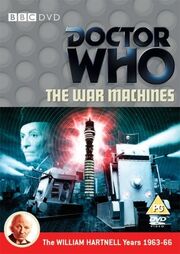 Commentary Edit
Commentary by Anneke Wills (Polly) and Michael Ferguson (Director).
Now and Then Edit
A look at the locations used in the making of the story, comparing how they were in 1966 with how they are today. Narrated by Simon Ockenden. Produced by Richard Bignell. (6'41" | 4:3 | 2008)
Blue Peter Edit
A compilation of features relating to the story from the children's magazine show. Valerie Singleton shows new stamps of the Post Office Tower; Christopher Trace goes to visit the tower and shows viewers how to build a model of it; a War Machine visits the Blue Peter studio; and schoolchildren bring in a Dalek they built. (16'16" | 4:3 | 1965/66)
One Foot in the Past Edit
Politician and ex-Postmaster General Tony Benn investigates the history of the Post Office Tower and is allowed up to the now-defunct revolving restaurant and onto the roof, in this extract from the BBC2 show. Broadcast: 19/05/98. (7'32" | 4:3 | 1998)
WOTAN Assembly Edit
A look at how these four episodes were restored and remastered. Narrator: Anneke Wills. Telecine Transfer & Grading: Jonathan Wood. Video Restoration: SVS Resources. Audio Restoration: Mark Ayres. Colourist: Chris Packham. Executive Producer: Dan Hall. Producer: Steven Bagley. (9'15" | 16:9 | 2008)
War Machine Design Plans Edit
PDF designs for a powerful machine.
Radio Times Listings Edit
Episode listings and illustrations from the BBC listings magazine, Radio Times.
Production Subtitles Edit
Text commentary by Richard Bignell providing cast details, script development and other information.
Photo Gallery Edit
A collection of rare and previously unpublished photos. Optional production subtitles by Richard Bignell. Thanks to: BBC Photograph Library, Derek Handley, Jan Vincent-Rudzki. (4'11" | 4:3 | 2008)
Coming Soon Edit
A preview of Battlefield. The trailer for this story is available on Four to Doomsday. (1'14" | 4:3 | 2008)
Easter Egg
Edit
Location Film Reel (Mute). Go to the 'Episode Selection' menu. Click on the hidden Doctor Who logo to the right of Episode 2. (1'06" | 4:3 | 1966)