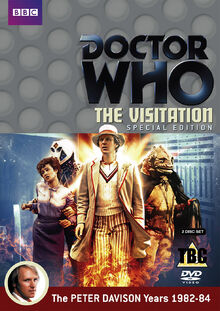 Commentary
Edit
Commentary with Peter Davison (the Fifth Doctor), Janet Fielding (Tegan), Sarah Sutton (Nyssa), Matthew Waterhouse (Adric) and director Peter Moffatt.
Directing Who - Peter Moffatt
Edit
A featurette about the work of the director of this and several other Doctor Who stories.
Writing a Final Visitation
Edit
An interview with the story's writer, Eric Saward.
Scoring The Visitation
Edit
Mark Ayres interviews composer Paddy Kingsland about his music for the story.
Film Trims
Edit
Shots and sequences cut from the finished programme.
Production Notes
Edit
Production insights and trivia delivered via an optional subtitle track.
Photo Gallery
Edit
Production and behind-the-scenes stills from the making of the story.
Grim Tales
Edit
Cast members Peter Davison, Janet Fielding and Sarah Sutton are taken on a trip back to the filming locations used in the story by fellow TARDIS travelling companion Mark Strickson. A slice of a very impressive cake awaits them at the manor house in return for their memories of the time…
The Television Centre of the Universe – Part One
Edit
Blue Peter presenter Yvette Fielding takes Peter Davison, Mark Strickson and Janet Fielding on a trip through BBC Television Centre, meeting up with old friends and colleagues as they reminisce on their time spent working in the iconic building. With film traffic supervisor Neville Withers, assistant floor manager Sue Hedden, costume designer Odile Dicks-Mireaux, production assistant Jane Ashford, make-up artists Joan Stribling and Carolyn Perry, BBC producer and writer Richard Marson
Doctor Forever – The Apocalypse Element
Edit
The latest instalment of our new series looks at the work of those who kept Doctor Who alive in the form of audio adventures following the TV's show's cancellation in 1989. With actors Colin Baker, William Russell and Lisa Bowerman, new series executive producer Russell T Davies, Big Finish executive producers Jason Haigh-Ellery, Nicholas Briggs and Gary Russell, Big Finish producer David Richardson, BBC range editor Steve Cole, writers Mark Gatiss, Robert Shearman, Paul Cornell, Joseph Lidster and Justin Richards, AudioGO commissioning editor Michael Stevens. Introduced by Ayesha Antoine.
PDF Materials
Edit
Radio Times Billings and BBC Enterprises Sales Sheet available in PDF format.
Coming Soon
Edit
Trailer for Inferno: Special Edition.
Community content is available under
CC-BY-SA
unless otherwise noted.