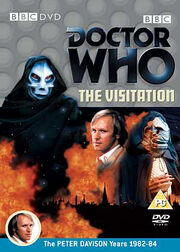 Commentary
Edit
Commentary by Peter Davison (the Doctor), Janet Fielding (Tegan), Sarah Sutton (Nyssa), Matthew Waterhouse (Adric), Peter Moffatt (director).
Directing Who: Peter Moffatt
Edit
Veteran television director Peter Moffatt looks back with affection on his work on The Visitation, as well as his other Doctor Who stories. Produced by John Finklestone. Produced by Peter Finklestone. Duration: 26'00" (2004)
Writing a Final Visitation
Edit
The writer of The Visitation, Eric Saward, details the story's origins and examines the changes made between script and screen for this, his debut Doctor Who script. Produced by Richard Molesworth. Duration: 12'00" (2003)
Scoring The Visitation
Edit
Composer Paddy Kingsland discusses in detail his musical score for The Visitation with fellow composer Mark Ayres.
Film Trims
Edit
The filmed location and Ealing studio sequences contain some additonal shots and dialogue that were cut from the finished episodes before transmission, plus material that only appeared on scanner screens throughout the story.
Isolated Score
Edit
Paddy Kingsland's specially-composed music is available on an isolated audio track.
Production Subtitles
Edit
Text commentary by Richard Molesworth providing cast details, script development and other information related to the production of this story.
Photo Gallery
Edit
A selection of rare and previously unpublished photographs from the recording of this story.
Easter Egg
Edit
Continuity Announcements. From the main menu screen, press the left arrow button to highlight the Doctor Who logo in the top left corner and select it.
Community content is available under
CC-BY-SA
unless otherwise noted.