CommentaryEdit
Commentary by John Levene (Sergeant Benton), Susan Penhaligon (Lakis), Barry Letts (Producer), Marion McDougall (Production Assistant), Graham Duff, Phil Ford, Joseph Lidster, James Moran, Toby Hadoke (Moderator).
Between Now... And Now!Edit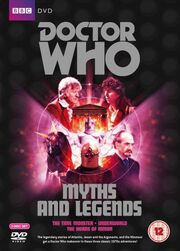 Professor Jim Al-Khalili looks at the science behind The Time Monster. Featuring interviews with Barry Letts, Katy Manning and Richard Franklin. (23'40" | Widescreen | 2010)
Restoration ComparisonEdit
A brief 'before and after' comparison of the picture restoration process used on this DVD release. (3'24" | 4:3 | 2010)
Radio Times BillingsEdit
Episode listings for this story from the BBC magazine Radio Times in PDF format.
Photo GalleryEdit
A selection of rare and previously unpublished photographs from the recording of this story. (8'02" | 4:3 | 2010)
Production SubtitlesEdit
Text commentary by (TBC) providing cast details, script development and other information related to the production of this story.
Coming SoonEdit
A preview of The Creature from the Pit. The trailer for this story is available on The Space Museum / The Chase. (0'42" | 4:3 | 2010)