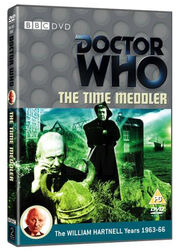 Commentary Edit
Commentary by Verity Lambert (Producer), Peter Purves (Steven), Donald Tosh (Script Editor), Barry Newbery (Designer) and Clayton Hickman (Moderator).
Verity Lambert Obituary Edit
A consise essay looking back over the career of one of Doctor Who's co-creators.
Stripped for Action: The First Doctor Edit
A look at the First Doctor's comic strip adventures. Featuring interviews with artist Bill Melvin, comics historians Jeremy Bentham and John Ainsworth, and former Doctor Who Magazine editors Gary Russell and Alan Barnes. Produced by Marcus Hearn (Phoenix Media). Duration: 14'00" (Widescreen) (2008)
The Lost Twelve Seconds Edit
Twelve seconds from the fourth episode are still missing, excised by overseas censors prior to recovery of the print. This short item uses an off-air audio recording and the original script to place the cut material in context within the story.
Restoration Edit
A featurette showing 'before and after' examples of techniques used during the restoration.
Radio Times Billings Edit
Articles and listings for this story's original transmission from the Radio Times in PDF format.
Production Subtitles Edit
Text commentary by Richard Molesworth providing cast details, script development and other information.
Photo Gallery Edit
A selection of rare and previously unpublished photographs from the recording of this story.
Coming Soon Edit
A preview of The Five Doctors: 25th Anniversary Edition. The trailer for this story is available on the Beneath the Surface box set.