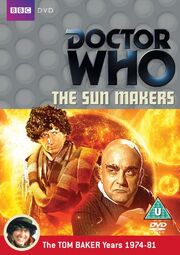 CommentaryEdit
Commentary by Tom Baker (The Doctor), Louise Jameson (Leela), Michael Keating (Goudry), Pennant Roberts (Director).
Running from the Tax ManEdit
A retrospective look at the making of the story and the science behind it. With Louise Jameson, Michael Keating, Pennant Roberts, writer and historian Dominic Sandbrook and astronomer Marek Kukula. Interviewer: Simon Cogan; Camera: Sophie Stern; Researchers: Simon Guerrier, Jim Sangster; Archive Courtesy of NASA; Special Thanks to: Sheryl Twigg, Stella Broster, Ed Stradling, Jonathan Morris; Graphics: Simon Belcher; Audio: David Darlington; Associate Producer: Richard Higson; Editor/Producer/Director: Thomas Guerrier; Executive Producer: Dan Hall. (24'51" | 16:9 | 2011)
Original BBC1 trailer for the story. (0'43" | 4:3 | 1977)
The Doctor's Composer - Part 2Edit
The concluding part of our look at the career of prolific composer Dudley Simpson, covering his work on the show in the 1970s. Narrator: Simon Ockenden. With Thanks To: Dudley Simpson, Damian Shanahan, Anthony Mahoney, Mark Ayres; Colourist: Jonathan Wood; Editors: Leanne Sheppard, Michael Connors; Executive Producer: Dan Hall; Producer/Director: Brendan Sheppard. (18'06" | 16:9 | 2011)
Fun with a malfunctioning prop. (0'34" | 4:3 | 1977)
Photo GalleryEdit
A selection of rare and previously unpublished photographs from the recording of this story. BBC Radiophonic Workshop Archive: Mark Ayres; Music: Dudley Simpson; Special Sound: Paddy Kingsland; Thanks to: BBC Photograph Library, Derek Handley, Ralph Montagu; Producer: Paul Shields. (4'06" | 4:3 | 2010)
Production SubtitlesEdit
Text commentary by Jim Smith providing cast details, script development and other information related to the production of this story.
PDF MaterialsEdit
Episode listings for this story from the BBC magazine Radio Times in PDF format.
Coming SoonEdit
A preview of Day of the Daleks. The trailer for this story is available on TBC. (1'20" | 4:3 | 2011)