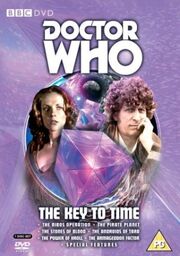 Commentary 1
Edit
Commentary by Mary Tamm (Romana), Darrol Blake (Director).
Commentary 2
Edit
Commentary by Tom Baker (the Doctor), Mary Tamm (Romana), Susan Engel (Vivien Fay), David Fisher (Writer).
Getting Blood from the Stones
Edit
Cast and crew look back at the making of the story. Featuring interviews with writer David Fisher, script editor Anthony Read, director Darrol Blake, actors Mary Tamm, John Leeson and Susan Engel, visual effects designer Mat Irvine, with DWM's Clayton Hickman and SFX's Steve O'Brien. Produced by Ed Stradling. Duration: 26'32"
Hammer Horror
Edit
Marcus Hearn's featurette looks at the influences of horror films on Doctor Who stories down the years. Featuring interviews with former Shivers magazine editor David Miller, author Jonathan Rigby, script editors Terrance Dicks and Anthony Read, with archive interview from actor Tom Baker. Produced by Phoenix Media. Duration: 13'05"
Stones Free
Edit
Mary Tamm visits the Rollright Stones location used in the story to meet local experts on this ancient stone circle. Produced by Phoenix Media. Duration: 9'08"
Deleted Scenes
Edit
Deleted scenes from episode two. Duration: 2'10"
Continuities
Edit
Off-air continuity links from the story's original BBC1 transmission. Duration: 2'23"
The Model World of Robert Symes
Edit
An excerpt taken from this programme first aired in January 1979 looks at the model work for this story and features visual effects designer Mat Irvine. Duration: 2'40"
Blue Peter
Edit
The famous children's show looks back at the history of Doctor Who on the show's fifteen anniversary. Duration: 6'03"
Nationwide
Edit
The BBC1 news magazine programme looks back on 15 years of Doctor Who with a surreal interview from Tom Baker, with Mary Tamm and Carole Ann Ford. Duration: 8'49"
Photo Gallery
Edit
Design, production and publicity stills for the story. Duration: 8'00"
Radio Times Billings
Edit
Illustrations, articles and episode listings for this story from the BBC magazine Radio Times in PDF format.
Production Subtitles
Edit
Text commentary by Martin Wiggins providing cast details, script development and other information related to the production of this story.
Coming Soon
Edit
A preview of Planet of Evil. The trailer for this box set is available on The Time Warrior.