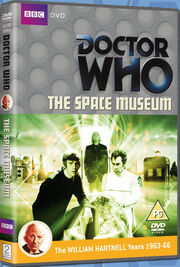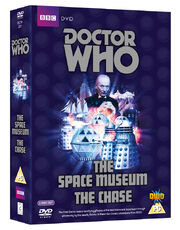 CommentaryEdit
Commentary by Maureen O'Brien (Vicki), William Russell (Ian) [1,3,4], Glyn Jones (Writer), Peter Purves (Moderator).
Defending the MuseumEdit
New Series writer Robert Shearman provides a personal and robust defence of this somewhat forgotten story. Producer: James Goss. (9'27" | 16:9 | 2009)
My Grandfather, The DoctorEdit
Jessica Carney talks about the career of her grandfather, William Hartnell. Producer/Director: Chris Chapman. A Dene Films Production. (10'04" | 16:9 | 2010)
A Holiday for The DoctorEdit
Spoof comedy recollections of sixties Doctor Who starring Christopher Green as actress Ida Barr. Producer: James Goss. (14'02" | 4:3 | 2009)
Radio Times BillingsEdit
Episode listings for this story from the BBC magazine Radio Times in PDF format.
Production SubtitlesEdit
Text commentary by Jim Smith providing cast details, script development and other information related to the production of this story.
Photo GalleryEdit
A selection of rare and previously unpublished photographs from the recording of this story. Produced by Derek Handley. (4'27" | 4:3 | 2010)
Coming SoonEdit
A preview of Myths and Legends. The trailer for this story is available on The Masque of Mandragora. (1'35" | 4:3 | 2010)