Commentary Edit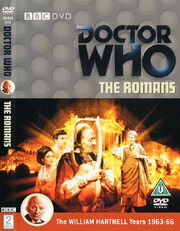 Commentary by William Russell (Ian Chesterton), Nick Evans (Didius), Barry Jackson (Ascaris), Christopher Barry (Director), Toby Hadoke (Comedian).
What Has 'The Romans' Ever Done For Us? Edit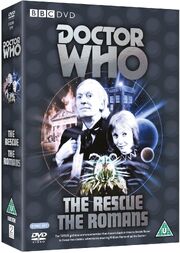 Actors, crew and historians look at both the reality and fantasy behind the story. With actors William Russell, Kay Patrick, Barry Jackson, Anthony Andrews, and Christopher Biggins, director Christopher Barry, designer Raymond Cusick, historian Dr Mark Bradley, writer James Moran, Doctor Who Magazine editor Tom Spilsbury and 1960s viewer Ian McLachlan. Narrated by John Bowe. Produced by Steve Broster. Duration: 33'58"
Roma Parva ('Little Rome') Edit
Director Christopher Barry demonstrates the use of a model of the studio set in the planning of camera positions and moves during recording. Produced by John Kelly. Duration: 2'31"
Dennis Spooner - Wanna Write a Television Series? Edit
A look at writer Dennis Spooner's work on Doctor Who. With actors William Russell and Peter Purves, script editor Donald Tosh, writers Brian Clemens and Rob Shearman, and Spooner's friend Jane Clemens. Narrated by Anna Hope. Produced by Robert Fairclough. Duration: 17'45"
Girls! Girls! Girls! - The 1960s Edit
An affectionate look back at the sixties Who-Girls. With actors Carole Ann Ford (Susan), William Russell (Ian), Peter Purves (Steven), Anneke Wills (Polly), Deborah Watling (Victoria), Frazer Hines (Jamie), Jean Marsh (Sara) and Honor Blackman (Professor Lasky), script editor Donald Tosh and director Christopher Barry. Narrated by Dona Croll. Produced by Robert Fairclough. Duration: 17'39"
Blue Peter Edit
The Blue Peter team hold a Roman banquet in the studio. Featuring Lesley Judd, John Noakes, Peter Purves and Valerie Singleton. Duration: 7'14"
Radio Times Billings Edit
Listing for this story from the Radio Times from its original transmission in a PDF file.
Photo Gallery Edit
Production, design and publicity photographs.
Production Information Subtitles Edit
Text commentary by Richard Molesworth providing cast details, script development and other information related to the production of this story.
Coming Soon Edit
A preview of Attack of the Cybermen. The trailer for this story is available on (TBC).