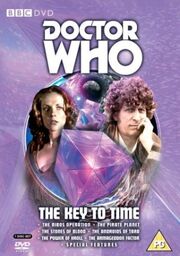 Commentary
Edit
Commentary by Tom Baker (the Doctor), Mary Tamm (Romana).
A Matter of Time
Edit
A 60-minute documentary written by Nicholas Pegg and produced by Ed Stradling, covers not only the Key to Time season but the entirety of Graham Williams' eventful three years as producer of Doctor Who in the late 1970s. Featuring interviews with Graham Williams in extracts from two 1980's conventions, actors Tom Baker, Louise Jameson, Mary Tamm, Lalla Ward (her first interview for the DVD range), John Leeson and Paul Seed, script editors Anthony Read and Douglas Adams (interviewed in 1992), writers Bob Baker, Dave Martin (his last interview) and David Fisher, directors Pennant Roberts, Michael Hayes, Ken Grieve, Christopher Barry and Darrol Blake, designers Richard McManan-Smith and Dick Coles, visual effects designers Mat Irvine and Colin Mapson, new series writer Gareth Roberts, DWAS founder member Jeremy Bentham, and Graham's widow, Jackie Williams. Narrated by Toby Longworth. Written by Nicholas Pegg. Produced by Ed Stradling. Duration: 60'00"
The Ribos File
Edit
Cast and crew look back at the making of the story. Featuring interviews with actors Nigel Plaskitt, Paul Seed, Mary Tamm, Prentis Hancock and Stuart Fell, with Doctor Who Magazine editor Clayton Hickman. Produced by Ed Stradling. Duration: 19'36"
Continuities
Edit
Off-air continuity links from the story's original BBC1 transmission. Duration: 2'06"
Season 16 Trailer
Edit
BBC1 trailer for the forthcoming season. Duration: 0'40"
Photo Gallery
Edit
Design, production and publicity stills for the story. Duration: 6'01"
Radio Times Billings
Edit
Illustrations, articles and episode listings for this story from the BBC magazine Radio Times in PDF format.
Production Subtitles
Edit
Text commentary by Martin Wiggins providing cast details, script development and other information related to the production of this story.
Coming Soon
Edit
A preview of Planet of Evil. The trailer for this box set is available on The Time Warrior.
Easter Egg
Edit
Schedule Change. Select 'Info Text On' from the Special Features menu, and then Play All from the Main Menu.