Commentary Edit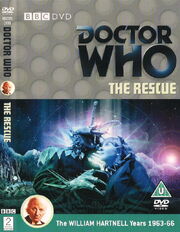 Commentary by William Russell (Ian Chesterton), Christopher Barry (Director), Raymond Cusick (Designer) and Toby Hadoke (Moderator).
Mounting the Rescue Edit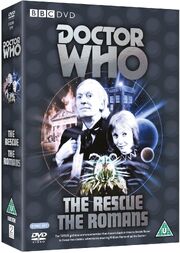 Cast and crew look back on the making of the story. With actors William Russell (Ian), Maureen O'Brien (Vicki) and Ray Barrett (Bennett), director Christopher Barry, designer Raymond Cusick and 1960s viewer Ian McLachlan. Produced by Steve Broster. (21'45" | 4:3 | 2009)
Radio Times Billings Edit
Listings for this story from the Radio Times from its original transmission in a PDF file.
Raymond Cusick Designs Edit
Original design drawings.
Photo Gallery Edit
A collection of production, design and publicity photographs.
Production Information Subtitles Edit
Text commentary by Richard Molesworth providing cast details, script development and other information related to the production of this story.
Coming Soon Edit
A preview of Attack of the Cybermen. The trailer for this story is available on (TBC).