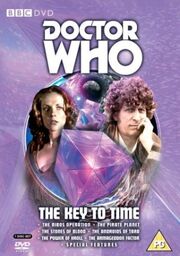 Commentary
Edit
Commentary by Tom Baker (the Doctor), John Leeson (Dugeen).
In Studio
Edit
A fascinating glimpse inside the studio during recording of the story, recovered from timecoded monochrome production recordings. Duration: 11'25"
Variations
Edit
A BBC local news programme visits the story's location during filming. Duration: 6'24"
There's Something About Mary
Edit
Mary Tamm looks back at her single-season starring role as the Doctor's companion. Edited by Steve Broster. Produced by Richard Molesworth. Duration: 9'47"
Philip Madoc: A Villain for All Seasons
Edit
Actor Philip Madoc looks back on his numerous roles as a Doctor Who villain down the years, including his appearance in the 1966 feature film 'Daleks Invasion Earth 2150AD'. Narrated by Jonathan Rigby. Produced by Phoenix Media. Duration: 9'40"
Continuities
Edit
Off-air continuity links from the story's original BBC1 transmission. Duration: 2'48"
Photo Gallery
Edit
Design, production and publicity stills for the story. Duration: 4'52"
Radio Times Billings
Edit
Illustrations, articles and episode listings for this story from the BBC magazine Radio Times in PDF format.
Production Subtitles
Edit
Text commentary by Richard Molesworth providing cast details, script development and other information related to the production of this story.
Coming Soon
Edit
A preview of Planet of Evil. The trailer for this box set is available on The Time Warrior.