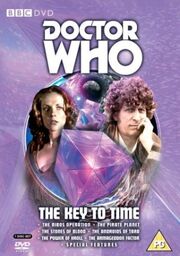 Commentary 1
Edit
Commentary by Tom Baker (the Doctor), Mary Tamm (Romana), Anthony Read (Script Editor).
Commentary 2
Edit
Commentary by Bruce Purchase (Pirate Captain), Pennant Roberts (Director).
Parrot Fashion
Edit
A documentary looking at the writing and production of the story. Featuring an archive interview with writer Douglas Adams, actors Mary Tamm, John Leeson, Bruce Purchase, Rosalind Lloyd and Primi Townsend, script editor Anthony Read, director Pennant Roberts, film cameraman Elmer Cossey, visual effects designer Colin Mapson, Douglas Adams' half-brother James Thrift, and friend and biographer Nick Webb. Produced by Kevin Jon Davies. Duration: 30'28"
Film Inserts, Deleted Scenes and Out-takes
Edit
A collection of extra material from the story's production. Duration: 13'56"
Weird Science
Edit
A spoof seventies schools science show looks at some the science seen in The Key to Time. Featuring David Graham and Mat Irvine, with Stevii the super-computer. Produced by Phoenix Media. Duration: 17'14"
Continuities
Edit
Off-air continuity links from the story's original BBC1 transmission. 3'42"
Photo Gallery
Edit
Design, production and publicity stills for the story. Duration: 7'00"
Radio Times Billings
Edit
Illustrations, articles and episode listings for this story from the BBC magazine Radio Times in PDF format.
Production Subtitles
Edit
Text commentary by Martin Wiggins providing cast details, script development and other information related to the production of this story.
Coming Soon
Edit
A preview of Planet of Evil. The trailer for this box set is available on The Time Warrior.