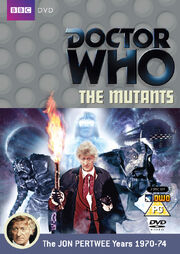 CommentaryEdit
Commentary by Katy Manning (Jo Grant) and Garrick Hagon (Ky), Christopher Barry (director), Terrance Dicks (script editor), Bob Baker (co-writer), Brian Hodgson (special sounds supervisor) and Jeremy Bear (designer). Moderated by Nicholas Pegg.
Production SubtitlesEdit
Text commentary by Richard Bignell providing cast details, script development and other information related to the production of this story.
Cast and crew look back at the making of the story. With actor Garrick Hagon, producer Barry Letts, director Christopher Barry, co-writer Bob Baker, script editor Terrance Dicks and designer Jeremy Bear. CREDITS: Special Thanks to: Alphaville 2 Studio, Jeremy Bear, Richard Bignell, Derek Handley, Peter Ware, Fran Naish, James Dunlop, Helen Wright; Camera: Mark Thompson; Runner: Katie Storey; Post-Production Runner: Andy Byren; Dubbing Mixer: Peter Groom; Editor: Topher McGrillis; Online Editor: Richard Alderson; Executive Producer: Dan Hall; Produced & Directed by Chris Chapman; A Dene Films Production. (20'40" | 16:9 | 2011)
Race Against TimeEdit
Noel Clarke narrates a documentary looking at the representation of non-white actors in Doctor Who and on British TV as a whole. With writer and critic Bidisha, writer Stephen Bourne, actor Fraser James, and Doctor Who Magazine's assistant editor Peter Ware. CREDITS: Written by Simon Guerrier; Researcher: Jim Sangster; Special Thanks To: Graeme Burk, Gary Gillatt, Dr. Gemma Romain; Recorded at The Moat Studios; Sound: David Darlington; Colourist: Jonathan Wood; Photo Manipulation: Alex Mallinson; Executive Producer: Dan Hall; Edited & Produced by Thomas Guerrier. (37'38" | 16:9 | 2010)
Dressing Doctor WhoEdit
Costume designer James Acheson takes an affectionate look back over his earlier work on Doctor Who. Featuring: The Mutants, The Three Doctors, Carnival of Monsters, The Time Warrior, Robot, Terror of the Zygons, The Masque of Mandragora. CREDITS: Narrator: Simon Ockenden; Thanks To: James Acheson, Mark Jennings; Colourist: Jonathan Wood; Editors: Leanne Sheppard, Michael Connors; Executive Producer: Dan Hall; Filmed, Produced & Directed by Brendan Sheppard. (27'06" | 16:9 | 2008)
Blue PeterEdit
Peter Purves examines some Doctor Who monsters prior to the opening of an exhibition of visual effects. (1'37" | 4:3 | TBC)
Photo GalleryEdit
A selection of rare and previously unpublished photographs from the recording of this story. BBC Radiophonic Workshop Archive: Mark Ayres; Music: Tristram Cary; Special Sound: Brian Hodgson; Thanks to: BBC Photograph Library, Derek Handley, Ralph Montagu, Colin Young; Produced by Paul Shields. (2'59" | 4:3 | 2011)
Radio Times BillingsEdit
Episode listings for this story from the BBC magazine Radio Times in PDF format.
Coming SoonEdit
A preview of The Ark. The trailer for this story is available on The Seeds of Doom. (1'05" | 4:3 | 2010)