Commentary Edit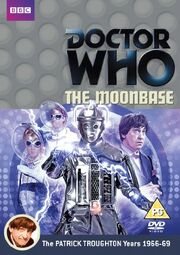 Commentary (episodes 2 & 4) by Anneke Wills (Polly), Frazer Hines (Jamie), Edward Phillips (Scientist), Brian Hodgson (Special Sounds Creator) and Toby Hadoke (Moderator).
A Series of One-to-One Interviews Edit
Featuring writer Kit Pedler's daughters Lucy Pedler and Carol Topolski, producer Innes Lloyd, AFM Lovett Bicksford and Cybermen actors Barry Noble, Derek Chaffer and Reg Whitehead.
Lunar Landing Edit
Cast and crew look back on the making of the story. With Anneke Wills (Polly), Frazer Hines (Jamie), Reg Whitehead (Cyberman) and Desmond McCarthy (Production Assistant).
Radio Times Listings Edit
Episode listings about The Moonbase from the Radio Times in Adobe PDF format for viewing on PC or Mac.
Production Subtitles Edit
Subtitles provide the viewer with cast details, script development and other information related to the production of The Moonbase.
Photo Gallery Edit
Production, design and publicity photos from the story.