Commentary Edit
Commentary by Louise Jameson (Leela), John Leeson (K-9), Mat Irvine (Visual Effects Designer), Bob Baker (co-writer).
Dreams and Fantasy Edit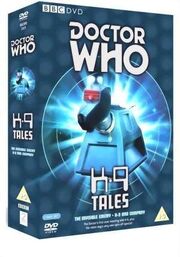 Cast and production crew recall the making of this story and even take the original K-9 for walkies. With actors Louise Jameson and John Leeson, director Derrick Goodwin, co-writer Bob Baker, visual effects designers Tony Harding and Mat Irvine, K9 operator Nigel Brackley and journalist Gary Gillatt. Produced by Richard Higson. Duration: 20'35"
Studio Sweepings Edit
A rare opportunity to go behind the scenes on the recording of this story, courtesy of a timecoded Shibaden videotape recorded for production use. Duration: 20'31"
Visual Effect Edit
Visual effects designer Mat Irvine meets up with his old colleague Ian Scoones at Bray Studios to talk about the visual effects for The Invisible Enemy and other stories. Produced by Paul Vanezis. Duration: 16'24"
Blue Peter Edit
K-9 meets John Noakes and Shep in this extract from the long-running children's magazine show. Duration: 4'30"
CGI Effects Edit
Alternative CGI Effects giving the viewer the option to watch the story with many of the original video effects sequences replaced by newly-shot models and CGI. Produced by John Kelly.
Trailers and Continuity Edit
BBC1 trailers and continuity announcements from the story's transmission. Duration: 3'45"
Radio Times Billings Edit
Episode listings for this story from the BBC magazine Radio Times in PDF format.
Production Subtitles Edit
Text commentary by Martin Wiggins providing cast details, script development and other information related to the production of this story.
Photo Gallery Edit
A selection of rare and previously unpublished photographs from the recording of this story.
Coming Soon Edit
A preview of The Brain of Morbius. The trailer for this story is available on (TBC).
Easter EggEdit
K9's Guest Appearance. Go to the 'Special Features' menu. Click on the hidden Doctor Who logo to the left of 'Studio Sweepings.'