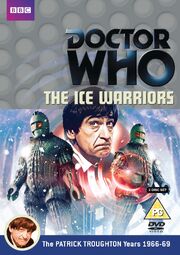 Commentary Edit
Commentary (episodes 1,4, 5 and 6) by Frazer Hines (Jamie), Deborah Watling (Victoria), Sonny Caldinez (Turoc), Jeremy Davies (Designer), Pat Heigham (Grams Operator) and Toby Hadoke (Moderator).
Commentary (animated episode 2) featuring original archive recordings or readings of text by Brian Hayles (Writer), Derek Martinus (Director), Martin Baugh (Costume Designer), Bernard Bresslaw (Varga), Peter Barkworth (Clent), Wendy Gifford (Miss Garrett) and Sylvia James (Make-Up supervisor).
Commentary (animated episode 3) by Patrick Troughton's son Michael Troughton.
Subtitle Production Notes Edit
Text commentary providing cast details, script development and other information related to the production of this story.
Cold Fusion Edit
Documentary charting the making of The Ice Warriors. With actors Frazer Hines, Deborah Watling, Sonny Caldinez, designer Jeremy Davies and James Bresslaw, son of the late actor Bernard Bresslaw. (24'31" | 16:9 | 2013)
Beneath the Ice Edit
A look behind the scenes of the animated Ice Warrior episodes. Producers Chris Chapman and Neil Bushnell, together with animation director Chris Chatterton lift the lid on the process used to bring Varga and his Warriors back to life. (10'31" | 16:9 | 2013)
VHS Links Edit
The linking material bridging the missing episodes Two and Three, originally produced for the BBC Video release in 1998. (19'19" | 16:9 | 1998)
Blue Peter - Design-A-Monster Edit
The launch and subsequent winners of a 1967 competition which screened during transmission of The Ice Warriors. (10'04" | 16:9 | 1967)
Doctor Who Stories - Frazer Hines (Part Two) Edit
The second part of an interview conducted with Frazer Hines in 2004 for the BBC Special The Story of Doctor Who. Part One is available on the DVD release of The Krotons. (13'48" | 16:9 | 2013)
Photo Gallery Edit
A selection of production, design and publicity photographs from this story. (3'53" | 16:9 | 2013)
Animated Original Ice Warriors Trailer Edit
An animated recreation of the original 1967 trailer.
Radio Times Listings Edit
Radio Times listing in Adobe PDF format.