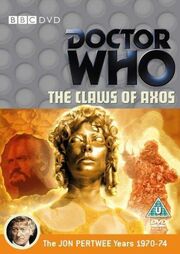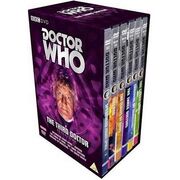 Commentary Edit
Commentary by Barry Letts (Producer), Katy Manning (Jo Grant), Richard Franklin (Mike Yates).
Behind the Scenes Edit
A selection of studio recorded material from the making of this story, including material that was recorded but utltimately never used in the finished programme. Optional subtitles may be selected to give the viewer additional information. Produced by Richard Bignell. (26'57" | 4:3 | 1973)
Now and Then Edit
A look back at the Dungeness locations used in 1970 for the recording of this story, comparing and contrasting them to how they appear nearly 35 years later. Narrated by Katy Manning. Produced by Richard Bignell. (6'33" | TBC | 2005)
Reverse Standards Conversion: The Axon Legacy Edit
A 10-minute documentary which looks at the restoration of this story for DVD. How did NTSC colour videotapes supplied to Canada in the 1970s enable this story to be released completely in colour? (10'08" | TBC | 2005)
Directing Who: Michael FergusonEdit
Michael Ferguson, the director of The Claws of Axos, talks about his memories of working on the story. Produced by John Kelly. (14'42" | TBC | 2005)
Production Subtitles Edit
Text commentary by Martin Wiggins providing cast details, script development and other information related to the production of this story.
Photo Gallery Edit
A selection of rare and previously unpublished photographs from the recording of this story. (10'54" | TBC | 2005)