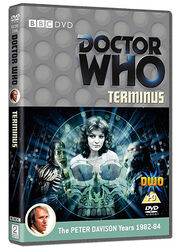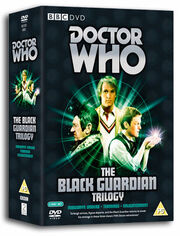 Commentary
Edit
Commentary by Peter Davison (The Doctor), Mark Strickson (Turlough), Sarah Sutton (Nyssa), Stephen Gallagher (writer).
Breaking Point
Edit
Cast and crew look back at the making of the story. With actors Peter Davison, Mark Strickson, Sarah Sutton and Martin Potter (Eirak), director Fiona Cumming, writer Stephen Gallagher, designer Dick Coles, camera supervisor Alex Wheal and sound supervisor Scott Talbott. Narrated by Floella Benjamin.
Origins of the Universe
Edit
Sir Patrick Moore and Dr John Mason take a look at the science behind the Big Bang and the origins of the universe.
Original Storyboards
Edit
Production storyboards for the spaceship sequences, plus how the shots were realised on screen.
Unused Model Shots
Edit
A selection of unused takes from the model effects shoot, taken from a timecoded production tape.
CGI Effects
Edit
The option to watch the story with many of the original video effects sequences replaced by CGI versions.
PDF Material
Edit
Episode listings for this story from the BBC magazine Radio Times in PDF format.
Continuity
Edit
BBC1 continuity announcements from the story's original 1983 transmission. (1983)
Isolated Score
Edit
The option to watch the story with the isolated score of Roger Limb's music.
Production Subtitles
Edit
Text commentary by Richard Molesworth providing cast details, script development and other information related to the production of this story.
Photo Gallery
Edit
A selection of rare and previously unpublished photos.
Coming Soon
Edit
A preview of The Twin Dilemma. The trailer for this story is available on The War Games.
Easter Eggs
Edit
1. Studio Countdown Clock.
2. TARDIS Information File.
Community content is available under
CC-BY-SA
unless otherwise noted.