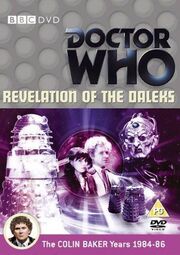 Commentary
Edit
Commentary by Nicola Bryant (Peri), Graeme Harper (director), Eric Saward (writer), Terry Molloy (Davros).
Revelation Exhumed
Edit
The cast and crew look back on the making of this story. With contributions from writer Eric Saward, director Graeme Harper, designer Alan Spalding, visual effects designer John Brace, costume designer Pat Godfrey, composer Roger Limb, and actors William Gaunt, Clive Swift, Terry Molloy, Roy Skelton, Trevor Cooper, Colin Spaull, Hugh Walters and Alexei Sayle. Produced by John Kelly. Duration: 45'00"
CGI Effects
Edit
This gives the viewer the option to watch the story with some of the original effects replaced by new CGI versions. There are 14 new sequences in total. Produced by John Kelly.
In Studio
Edit
A 15-minute look at the studio recording of Revelation of the Daleks, showing re-takes, fluffs and the general working pattern of a BBC TV studio. This item can be viewed with raw studio sound or with a commentary by Graeme Harper and Terry Molloy.
Deleted Scenes
Edit
Three short scenes that were deleted from the finished version of the story.
Continuity
Edit
The off-air continuity announcements from the original and repeat BBC transmissions. This also shows how the original two part story was split into four parts on the repeat.
Dolby Digital 5.1 Surround Sound Mix
Edit
The option to choose to listen to either the original mono soundtrack or a brand new Dolby 5.1 Surround sound mix created especially for this DVD release.
Isolated Score
Edit
Roger Limb's specially-composed soundtrack for this story is included as a music-only option.
Photo Gallery
Edit
A selection of rare and previously unpublished photographs from the recording of this story.
Production Subtitles
Edit
Text commentary by Richard Molesworth providing cast details, script development and other information related to the production of this story.
Easter Egg
Edit
Dialogue Re-recording for the 5.1 Surround Sound Mix. Click on the hidden Doctor Who logo to the left of 'Episode Selection' on the main menu.