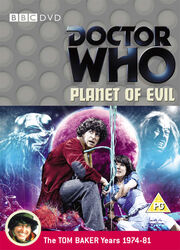 Commentary
Edit
Commentary by Tom Baker (the Doctor), Elisabeth Sladen (Sarah-Jane Smith), Prentis Hancock (Salamar), Philip Hinchcliffe (producer).
A Darker Side
Edit
A selection of key production personnel look at the making of Planet of Evil. With producer Philip Hinchcliffe, writer Louis Marks, designer Roger Murray-Leach, director David Maloney, actors Tom Baker, Elisabeth Sladen and Prentis Hancock. Partially shot on location at BBC Written Archives Centre and Ealing Studios. Produced by Ed Stradling. Duration: 25'50"
Planetary Performance
Edit
A look at the production of the story from an actor's perspective. With actors Tom Baker, Elisabeth Sladen, Prentis Hancock, Tony McEwan and Graham Weston. Produced by Steve Broster. Duration: 13'30"
Studio Scene
Edit
The only surviving behind-the-scenes footage from the story taken from the end of the BBC's transmission master tape of the first episode. Duration: 0'48"
Trails and Continuities
Edit
Continuity announcements and repeat trailer. Duration: 1'50"
Photo Gallery
Edit
Production, design and publicity photos from the story. Duration: 7'04"
Radio Times Billings
Edit
Episode listings for this story from the BBC magazine Radio Times in PDF format.
Production Subtitles
Edit
Text commentary by Richard Molesworth providing cast details, script development and other information related to the production of this story.
Coming Soon
Edit
A preview of Destiny of the Daleks. Duration: 1'02". The trailer for this story is available on The Key to Time box set.
Easter Egg
Edit
Hidden Hinchcliffe (Unused Interview Segment). Go to the 'Special Features' menu. Click on the hidden Doctor Who logo to the left of the 'A Darker Side'.
Additional Special Features
Edit
Roger Murray-Leach Interview
Edit
The designer of The Ark in Space, Roger Murray-Leach, looks back on his contribution to this and other stories (The Sontaran Experiment, 'Planet of Evil', The Deadly Assassin, The Talons of Weng-Chiang) in this specially recorded interview. Interviewer: Peter Finklestone; Videotape Editor: Adam Trotman; Producer: Paul Vanezis. Available on The Ark in Space. (10'29" | 4:3 | 2002)