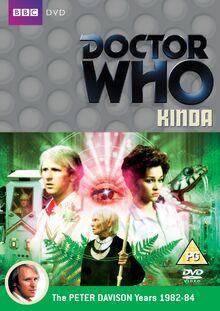 Released as a part of the Mara Tales boxset.
Commentary
[
]
Commentary by Peter Davison (The Doctor), Janet Fielding (Tegan), Matthew Waterhouse (Adric), and Nerys Hughes (Todd).
Dream Time
[
]
Cast and crew reflect on the making of this story. With with Simon Rouse (Hindle), Adrian Mills (Aris), director Peter Grimwade, writer Christopher Bailey, script editors Christopher H. Bidmead, Eric Saward and Antony Root, and designer Malcolm Thornton. (34'06" | 16:9 | 2011)
Peter Grimwade: Directing With Attitude
[
]
A look at the Doctor Who career of writer and director Peter Grimwade. With Peter Grimwade, actors Janet Fielding and Nerys Hughes, writer Christopher Bailey, script editor Eric Saward, production assistant Margot Hayhoe, designer Malcolm Thornton, production secretary Jane Judge, script consultant Ian Levine, and Target Books editor Nigel Robinson. Presented by Mark Strickson. (22'59" | 16:9 | 2011)
Deleted and Extended Scenes
[
]
A fascinating collection of deleted sequences taken from timecoded domestic videotape copies of the story's early edits. (14'37" | 4:3 | 1981/2011)
CGI Effects Sequences
[
]
Option to view episode four with the original giant puppet snake replaced by a CGI snake.
CGI Effects Comparison Featurette
[
]
A side by side comparison of the original puppet and new CGI snake shots. (1'36" | 16:9 | 2011)
Trails and Continuity
[
]
BBC trails and continuity announcements from the story's original transmission. (4'15" | 4:3 | 1982)
Isolated Score
[
]
Option to watch the story with the isolated music score by Peter Howell.
Radio Times Billings
[
]
Available in PDF format.
Production Subtitles
[
]
Production insights and trivia delivered via an optional subtitle track. Written by Jim Smith.
Photo Gallery
[
]
Production and behind-the-scenes stills from the making of the story. (4'44" | 4:3 | 2011)
Coming Soon
[
]
Trailer for the Revisitations 2 boxset. (2'20" | 4:3 | 2011)