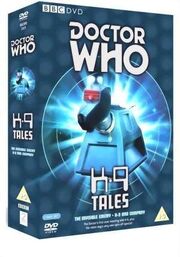 Commentary
Edit
Commentary by Elisabeth Sladen (Sarah-Jane Smith), John Leeson (K9), Linda Polan, Eric Saward (Script Editor).
The K9 Files
Edit
Key production personnel look at the making of this story and K9's subsequent life in books and comic strips. With actors Elisabeth Sladen, John Leeson, writer and co-creator of K9, Dave Martin, script editor Terrance Dicks, director John Black, visual effects designer Mat Irvine and journalist Moray Laing. Produced by Phoenix Media. Duration: 11'41"
K9 - A Dog's Tale
Edit
K9 himself answers a selection of questions about his life. Duration: 3'25"
Pebble Mill at One
Edit
K9's appearance on the Christmas 1981 edition of the BBC1 lunchtime magazine show. Produced by Phoenix Media. Duration: 2'40"
Trails and Continuities
Edit
BBC trails and continuity. Duration: 2'10"
The Adventures of K9
Edit
Adobe PDF versions of the four K9 books for younger children, written by Dave Martin and published in 1980 - 'K9 and the Beasts of Vega', 'K9 and the Missing Planet', 'K9 and the Time Trap' and 'K9 and the Zeta Rescue'.
The K9 Annual
Edit
To tie-in with K9 and Company, The K9 Annual was released for Christmas 1982, containing the further adventures of Sarah Jane, K9 and Brendan. Presented in Adobe PDF.
Radio Times Billings
Edit
Articles and episode listings for this story from the BBC magazine Radio Times in PDF format.
Production Subtitles
Edit
Text commentary by Martin Wiggins providing cast details, script development and other information related to the production of this story.
Photo Gallery
Edit
A selection of rare and previously unpublished photographs from the recording of this story.
Coming Soon
Edit
A preview of The Brain of Morbius. The trailer for this story is available on (TBC).