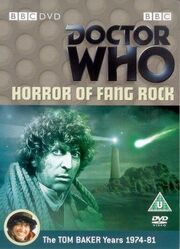 Commentary
Edit
Commentary by Louise Jameson (Leela), John Abbott (Vince), Terrance Dicks (writer).
Terrance Dicks: Fact & Fiction
Edit
Terrance Dicks' writing career spans 60 years and this feature documentary looks at his extensive body of work for books and television. Featuring contributions from the man himself, as well as Barry Letts, Christopher Barry, Louis Marks, Eric Saward, Paul Cornell, Peter Darvill-Evans and Brenda Gardner. Produced and directed by Keith Barnfather. Duration: 36'00"
Directing Who: Paddy Russell - A Life in Television
Edit
Paddy Russell began her career as an actress but soon learned that stage managers were better paid. In this specially shot interview Paddy looks back over her career on the show and the four stories she directed. Produced by Paul Vanezis. Duration: 14'00"
The Antique Doctor Who Show
Edit
To celebrate the thirtieth anniversary of Doctor Who in 1993, the BBC made several short films showcasing the enduring interest in the programme. The Antique Doctor Who Show is one of these, made in the style of The Antiques Road Show and originally screened before the second episode of Planet of the Daleks, and gives an insightful look into the merchandising of the series. Duration: 5'00"
Photo Gallery
Edit
Cast and design photographs from the story, as well as studio floorplans and set models. Duration: 8'00"
Production Subtitles
Edit
Text commentary by Richard Molesworth providing cast details, script development and other information related to the production of this story.
Easter Egg
Edit
Countdown Clock - Episode 3. Go to the 'Special Features' menu. Click on the hidden Doctor Who logo to the left of 'The Antique Doctor Who Show.'