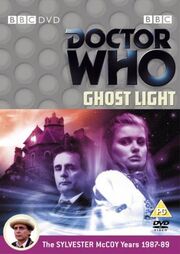 Commentary
[
]
Commentary by Sophie Aldred (Ace), Andrew Cartmel ([[:Category:Script Editor|Script Editor), Marc Platt (Writer), Mark Ayres (Composer).
Light in Dark Places
[
]
A look back at the making of Ghost Light, and an examination of the complexities of the script. With contributions from Sylvester McCoy (The Doctor), Sophie Aldred (Ace), Michael Cochrane (Redvers), Sharon Duce (Control), Ian Hogg (Josiah), Katharine Schlesinger (Gwendoline), Mark Ayres (Composer) and Andrew Cartmel (Script Editor). Produced by Steve Broster. Produced by Richard Molesworth. Duration: 38'00"
Deleted and Extended Scenes
[
]
A selection of unused scenes and excised material from Ghost Light.
Shooting Ghosts
[
]
A unique look at the making of the story during the studio recording session, taken from a VHS recording made during the last studio block in 1989.
Writer's Question Time
[
]
Ghost Light writer Marc Platt answers questions from the audience at the PanoptiCon Doctor Who convention in 1990.
Dolby Digital 5.1 Surround Sound Mix
[
]
The option to choose to listen to either the original stereo soundtrack or a brand new Dolby 5.1 Surround sound mix created by Mark Ayres especially for this DVD release.
Isolated Score
[
]
Mark Ayre's specially-composed soundtrack music for this story is included on an isolated audio track.
Photo Gallery
[
]
A selection of rare and previously unpublished photographs from the recording of this story.
Production Subtitles
[
]
Text commentary by Martin Wiggins providing cast details, script development and other information related to the production of this story.
Easter Egg
[
]
That's the Way to the Zoo. Go to the main menu screen. Click on the hidden Doctor Who logo to the left of the 'Episode Selection'.
Continuity Announcements. Go to the 'Special Features' menu. Click on the hidden Doctor Who logo to the left of the 'Information Text'.