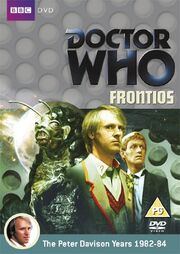 CommentaryEdit
Commentary by Peter Davison (The Doctor), Jeff Rawle (Plantagenet), John Gillett (The Gravis), Eric Saward (Script Editor), Dick Mills (Special Sounds Designer).
Driven to DistractionEdit
The cast and crew reflect on the making of this story. Actors Peter Davison (The Doctor), Mark Strickson (Turlough), Jeff Rawle (Plantagenet) and John Gillett (The Gravis) are joined by script editor Eric Saward, writer Christopher H. Bidmead and designer David Buckingham in their analysis of this story's creation. Narrator: Paul Jones; Interviewers: Simon Guerrier, Simon Harries; Thanks To: Roger Anderson, Christopher H. Bidmead, Lynn Gray, Ralph Montagu, Jim Sangster, Robert Shearman, Peter Ware; Camera: Tim Hirst; Colourist: Jonathan Wood; Executive Producer: Dan Hall; Producer: Ed Stradling. (32'53" | 16:9 | 2011)
Deleted and Extended ScenesEdit
A number of scenes cut from the final edit of Frontios are presented here in their original format, before post-production effects had been added. Thanks To: Ian Levine. (15'38" | 4:3 | 1984/2010)
Photo GalleryEdit
A selection of rare and previously unpublished photographs from the recording of this story. Music: Paddy Kingsland; Special Sound: Dick Mills; Thanks To: BBC Photograph Library, Derek Handley, Ralph Montagu; Producer: Paul Shields. (5'23" | 4:3 | 2011)
Isolated ScoreEdit
The option to watch the story with Paddy Kingsland's complete musical score on an isolated soundtrack.
Production SubtitlesEdit
Text commentary by Paul Scoones providing cast details, script development and other information related to the production of this story.
Radio Times BillingsEdit
Episode listings for this story from the BBC magazine Radio Times in PDF format.
Coming SoonEdit
A preview of Earth Story. The trailer for this story is available on Mannequin Mania. (1'46" | 4:3 | 2011)
Community content is available under
CC-BY-SA
unless otherwise noted.