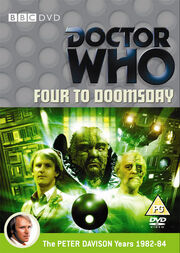 Commentary
Edit
Commentary by Peter Davison (the Doctor), Matthew Waterhouse (Adric), Janet Fielding (Tegan), Sarah Sutton (Nyssa), John Black (Director).
Studio Recording
Edit
Peter Davison's first day in the studio as the Doctor is documented in this unique studio recording recovered from the personal archive of the producer, the late John Nathan-Turner. Duration: 27'11.
Saturday Night at the Mill
Edit
Peter Davison's appearance on the Saturday night magazine programme on Boxing Day, 1980. Interviewed by Bob Langley, with a brief appearance by Davison's then-wife Sandra Dickinson. Duration: 14'25"
Theme Music Video
Edit
A brand new remix of Peter Howell's version of the theme music for the series, exclusively remixed from the original multitrack master. Option to listen to the music in either stereo (default) or Dolby Digital 5.1 surround versions. This feature made a previous appearance on Castrovalva in the New Beginnings Boxset, but the 5.1 mix was inadvertently omitted. Duration: 3'34"
Radio Times Billings
Edit
Listings for this story from the BBC magazine Radio Times in PDF format.
Photo Gallery
Edit
Production, design and publicity photos from the story. Duration: 6'37"
Production Subtitles
Edit
Text commentary by Richard Molesworth providing cast details, script development and other information related to the production of this story.
Coming Soon
Edit
A preview of The War Machines. Duration: 1'06". The trailer for this story is available on The Trial of a Time Lord.
Community content is available under
CC-BY-SA
unless otherwise noted.