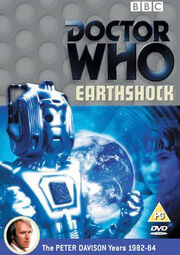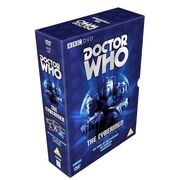 Commentary
Edit
Commentary by Peter Davison (the Doctor), Janet Fielding (Tegan), Sarah Sutton (Nyssa), Matthew Waterhouse (Adric). (Year TBC)
Putting the 'Shock' into Earthshock
Edit
A documentary charting the development and creation of this story, plus the unique reactions it prompted from viewers. With contributions from Peter Davison, Sarah Sutton, Matthew Waterhouse, Peter Grimwade, Eric Saward and David Banks. Produced by Ed Stradling. Duration: 30'00"   (2003)
40th Anniversary Celebration
Edit
Montage of clips to a rockin' version of the theme tune celebrating 40 years of Doctor Who. Duration: 3'00" (2003)
CGI Effects
Edit
This gives the viewer the option to watch the story with some of the original effects replaced by new CGI versions. (2003)
Location Film Sequences
Edit
The filmed location sequences contain some additional shots and dialogue that were cut from the finished opening episode before transmission. (1982)
Isolated Score
Edit
Malcolm Clarke's specially-composed soundtrack is available on an isolated audio track.
Did You See?
Edit
To celebreate the return of the Cybermen to Doctor Who, BBC2 review programme Did You See? took a look back at some of the programme's more memorable monsters during the edition screened on Sunday 14th March 1982. Duration: 10'00" (1982)
Production Subtitles
Edit
Text commentary by Richard Molesworth providing cast details, script development and other information related to the production of this story. (2003)
Photo Gallery
Edit
A selection of rare and previously unpublished photographs from the recording of this story. (2003)
Episode 5
Edit
Short Claymation animation. (2003)
Easter Egg
Edit
The Real McCoy sketch: Jamaican Broadcasting Corporation. Go to the 'Special Features' menu. Click on the hidden Doctor Who logo to the left of the '40th Anniversary Celebration.' (TBC | TBC | TBC)
Additional Special Features
Edit
The Cyber Story
Edit
A brief history of the Cybermen in the classic series. With director Morris Barry, writer Eric Saward, costume designers Sandra Reid and Dinah Collin, Cyberman actor Mark Hardy, voice artist Roy Skelton and Professor Kevin 'Human Cyborg' Warwick. Narrator: James Coombes. Producer/Director: Brendan Sheppard. Available on Attack of the Cybermen. (22'52" | 16:9 | 1992/2008)
The Cyber-Generations
Edit
A gallery of Cybermen through the history of the series, set to music from their stories. Available on Attack of the Cybermen. (7'51" | 4:3 | 2007)
Community content is available under
CC-BY-SA
unless otherwise noted.