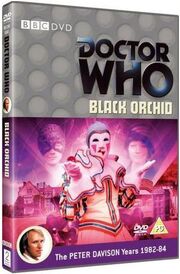 Commentary
Edit
Commentary by Peter Davison (The Doctor), Janet Fielding (Tegan Jovanka), Sarah Sutton (Nyssa), Matthew Waterhouse (Adric).
Now and Then
Edit
A look at the locations used in the making of Black Orchid, comparing how they were then with how they look today. Narrator: IanT. Williams. Producer: Richard Bignell. (9'04" | 4:3 | 2008)
Deleted Scenes
Edit
Deleted and extended scenes from this two-part adventure. (7'05" | 4:3 | 1982)
Stripped for Action: The Fifth Doctor
Edit
A look at the Fifth Doctor's comic strip adventures. Featuring interviews with artist Dave Gibbons, and former Doctor Who Magazine editors Alan McKenzie, Gary Russell and Alan Barnes. Producers: Richard Adamson, Anthony Caulfield, Rohan Latchman. Director: Marcus Hearn. (16'10" | 16:9 | 2008)
Blue Peter
Edit
A visit to the theatrical costumiers responsible for the period costumes used in Black Orchid with presenters Sarah Greene and Simon Groom. (8'39" | 4:3 | TBC)
Points of View
Edit
Barry Took airs disgruntled viewers' letters about the rescheduling of Doctor Who to weekdays. (2'27" | 4:3 | 1982)
Film Restoration
Edit
Before and after examples of techniques used during the restoration of the location film elements of this story. (2'42" | 4:3 | 1982/2008)
Radio Times Listings
Edit
Episode listings for Black Orchid from the BBC listings magazine.
Production Subtitles
Edit
Text commentary by Karen Davies providing cast details, script development and other information related to the production of this story.
Photo Gallery
Edit
A selection of rare and previously unpublished photos. (4'41" | 4:3 | 2008)
Coming Soon
Edit
A preview of The Trial of a Time Lord. The trailer for this story is available on (TBC). (1'17" | 4:3 | 2008)
Easter Egg
Edit
Continuity Announcements. Go to the 'Special Features' menu. Click on the hidden Doctor Who logo to the left of the 'Points of View'. (0'51" | 4:3 | 1982)
Community content is available under
CC-BY-SA
unless otherwise noted.