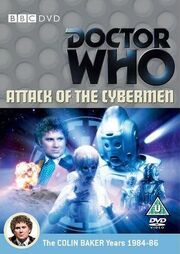 Commentary
Edit
Commentary by Colin Baker (The Doctor), Nicola Bryant (Peri), Terry Molloy (Russell), Sarah Berger (Rost).
The Cold War
Edit
Cast and crew look back at the making of the story. With actors Colin Baker, Nicola Bryant, Terry Molloy and Sarah Berger, writer Eric Saward, director Matthew Robinson, continuity advisor Ian Levine and film cameraman Godfrey Johnson. Narrator: Stephen Greif. Interviewers: Andrew Beech, Gareth A. Roberts. Producer: John Kelly. (27'29" | 16:9 | 2009)
The Cyber Story
Edit
A brief history of the Cybermen in the classic series. With director Morris Barry, writer Eric Saward, costume designers Sandra Reid and Dinah Collin, Cyberman actor Mark Hardy, voice artist Roy Skelton and Professor Kevin 'Human Cyborg' Warwick. Narrator: James Coombes. Producer/Director: Brendan Sheppard. (22'52" | 16:9 | 1992/2008)
Human Cyborg
Edit
An interview with Professor Kevin Warwick, who has used himself as a human guinea pig for cybernetic implant experimentation. Producer/Director: Brendan Sheppard. (8'11" | 16:9 | 2008)
The Cyber-Generations
Edit
A gallery of Cybermen through the history of the series, set to music from their stories. (7'51" | 4:3 | 2007)
Trails and Continuity
Edit
BBC1 trails and continuity announcements from the story's first transmission. (3'13" | 4:3 | 1984)
Isolated Score
Edit
The option to watch the story with Malcolm Clarke's complete musical score on an isolated soundtrack.
PDF Materials
Edit
Radio Times listings for Attack of the Cybermen and The Invasion, plus a 1969 article from The Listener magazine by Cyberman co-creator Kit Pedler.
Photo Gallery
Edit
A selection of rare and previously unpublished photographs from the recording of this story. (8'13" | 4:3 | 2007)
Production Subtitles
Edit
Text commentary by TBC providing cast details, script development and other information related to the production of this story.
Coming Soon
Edit
A preview of Image of the Fendahl. The trailer for this story is available on The Rescue / The Romans. (1'06" | 4:3 | 2009)
Easter Egg
Edit
Cybernetic Autonomous Dalek. Go to the 'Special Features' menu. Click on the hidden Doctor Who logo to the left of the 'The Cyber-Generations'. Producer/Director: Brendan Sheppard. (1'07" | 16:9 | 2008)